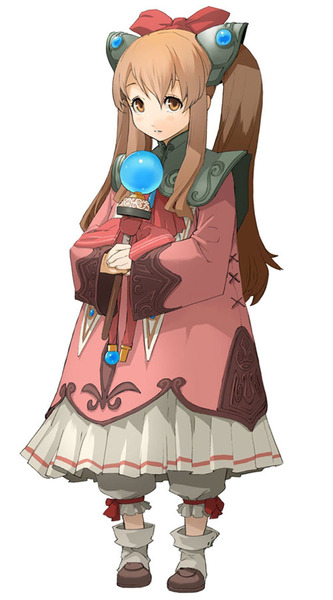 Name:
Sera Albion
Age:
14
Birthdate:
June 22
Rank:
Genin
Village:
Konoha
Clan:
Uzumaki
Kekki Genkai:
Explosion
Element(s):
Earth and Lightning
Specialties:
Fuinjutsu/Ninjutsu
Weight:
85 lb.s
Height:
4'8"
Hair Color:
Light Brown
Eye Color:
Light Brown
General Description:
Despite being fourteen Sera appears as a little girl instead of a teenager which works in her favor quite often as she's underestimated.  The dainty little kunoichi is not even five feet tall or ninety pounds yet she can seem very intimidating when angered.  She has light brown hair and eyes with her hair back in pig tails with ribbons.  Her dress is usually pink when in the village but tends to wear nature colored dresses when leaving the village for missions or travel. She does have the hand mouths that other of her release had.
Personality:
Sera is like a little sister to most others in her village.  She acts adorable yet devious always looking for the chance to pull a prank non someone.  Other times she's usually affectionate, sweet and kind to people but when she gets serious she is usually on an important mission, fight singing, training or severely angry.  She has a habit of acting younger then she is, quite immature.
Likes:
She likes people who are nice and can accept her pranks happily, because they are more fun.  Sera absolutely loves sweets particularly mint flavor, because she's childish and has a sweet tooth.
Dislikes:
She dislikes clingy people, liars, thieves, people who ignore others and various other things that can be considered a crime or rude.  Sera also Hayes spicy foods as if its too spicy it hurts her mouth.
Motivations:
 She's motivated by her want to be with and protect her friends and family, but she has another motivation to see how far she can go.
Fears:
She fears being alone and watching those she likes or loves die around her while she's powerless to stop it.
History:
Being born without any siblings made Sera feel lonely as a little girl and that made her prone to play pranks to get the attention of her parents.  As such when she saw an older girl playing pranks as well she began following her around and the two became close friends.  As such Sera gained a new big sister by the name of Kurai and would work her hardest to learn the pranks to be better at pulling them.  One day while preparing and setting a prank up her parents walked in behind her and scolded her and spanked her and said to stop causing trouble for others.  That lead to her running to her special place, a small stream behin d her house where she sat crying.  A boy in her class walked up behind her being drawn by her crying.  Since the two never spoke before he introduced himself as Xavier and comforted her before he too found himself with the title of big brother.  Since then Sera has tried her hardest to please Xavvy Chan and Rai Chan.
Spoiler: