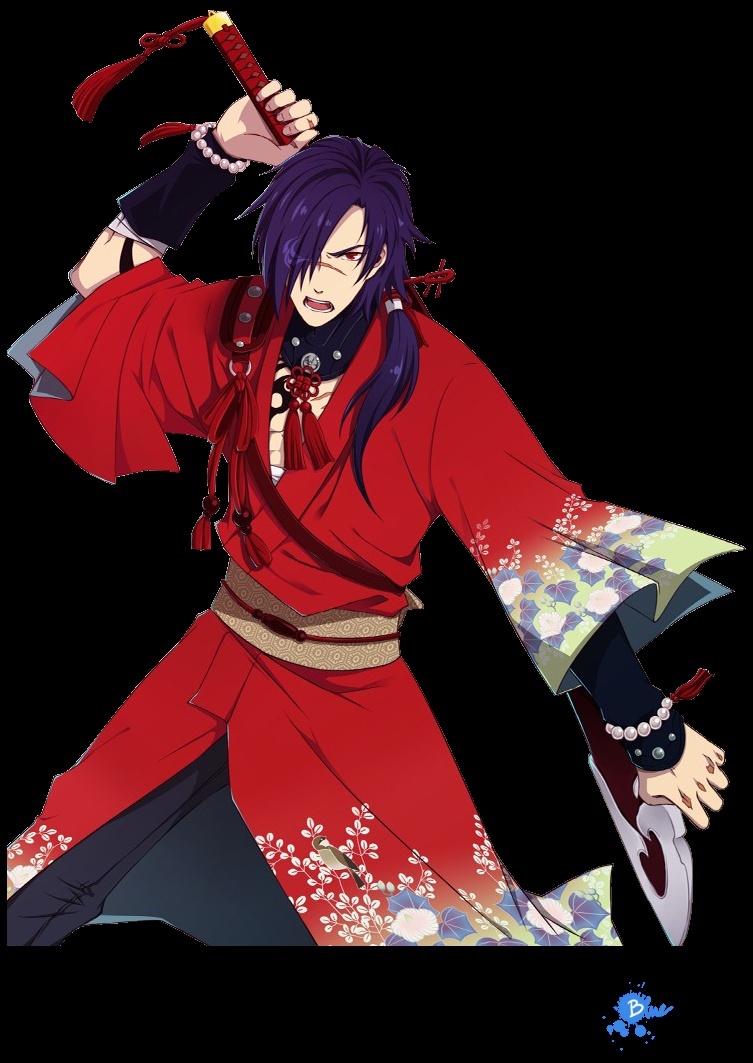 Name: Sion
Age: 21
Birthdate: August 8
Rank: Chunin or Higher if possible
Village: Konoha
Clan: TBD
Kekki Genkai: TBD
Element(s): Wind & Lightning
Specialties: Ninjutsu & Taijutsu
Weight: 6'3
Height: 195
Hair Color: Indigo
Eye Color: Red
General Description: Sion has a scar across the width of his face. The scar is located between the upper nose. He has long indigo hair tied in a ponytail. He sports a long bang on the right side. Furthermore he has sealing tattoos along the right side of his body. He normally wears old Japanese style clothing.
Personality:  Sion is a shrewd person, and is not a man who would do something without reason. Sion is known for his indomitable spirit, drive, determination, and fierce ambition. Sion also has a desire to be acknowledged by everyone in the village by becoming the greatest Hokage the village had seen. His devotion to the village, and his love for his friends inspires all those around him, and, as a result, he became well-liked by the villagers. He is also shown to be very forgiving.
Likes:
Dislikes:
Motivations:
Fears:
History: Amnesia?
RP Sample: Vash silently stood in his room peering into the large mirror hanging on the door. The sun reflected off the mirror and kissed Vash on the cheek. He continued to stand there just looking at himself; many thoughts were running through his mind, yet he said nothing. Vash smiled and began to check his clothing making sure everything was alright. Vash wore a rather festive head wrap; that does not cover his entire head. He had double hooped earrings in both ears. Vash sported shaded glasses with a orange tint to them; that ,made everything have a tint of orange.
Vash had a blue Kiri around his neck. Under it is a vest that extends down to his lower thighs on both sides, but opens up around his waist area. There is a zipper on the vest that starts right below the headband and stops at his waist where the vest opens up. Under that is a dark grey buttoned up shirt that is only seen where the vest opens up. Vash's jacket is shorter than his vest, and has latches instead of buttons or a zipper. The sleeves on it are not "full", so to speak. The sleeve stops at his elbows and opens up and continues down his arm past his hand. The jacket also has two Uzumaki clan symbols one on each shoulder.
Vash looked over to the desk clock after examining himself and deducing everything was in order. It was a quarter after which means it was time for him to head out. He reached inside his jacket which had a inner pocket, and pulled out a picture. It was of him and his siblings. He smiled and said with great happiness "Today is the day guys. Wish me luck!". Vash picked up the long scroll on his bed, strapped it onto his back, and slowly walked out the door. He had no sense of anxiousness or anxiety in his heart; his breaths were calm and tranquil liked a lake undiscovered by humanity. He smiled as he walked out of his home and down the streets of Kirigakure towards his new life.